2005/06/16 16:39:59 PDT by Stix [0/49]
Awards: 5 from Dev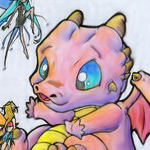 The idea: Imagine a grumpy old overseer, a side-kick if you will. If he's the 'muscle', then he's a very grumpy kind of muscle that you don't want to cross.
With this idea in mind, I tried to draw a guy who you'd like to avoid in the cafeteria when you pop in to get a bite to eat. I really don't know how I can make a man look 41 years old without making him look like he's 60...
Here he is, anyway.
Anyone want tomake some adjustments, feel free. this is by no means a final thing. But it's a start.
Any suggestions?
My own pet peeves:
1. The Chin is weird.
2. The HAIR. Did he just come out of the mental ward, or is it just me? or maybe the "bed hair" look is in?
3. It appears that his mouth has permenantly frozen into that weird, weird scowl.