2005/06/13 17:38:17 PDT by Stix [0/49]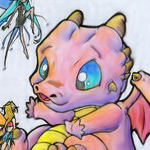 Okay. I haven't had a lot of time on this but I finally 'finished' it. Feel free to tinker if you want to make the ending shorter, so that it can repeat as needed. Wash, rinse, repeat, wash, rinse, repeat... If this game gets started, I won't be surprised if people actually start whistling this tune to themselves. I know *I* have.
Like I said, if you don't like it, feel free to tinker.
Dev, I hope I did this justice... was it anything you ever hoped for?