2005/06/14 17:44:21 PDT by Stix [0/49]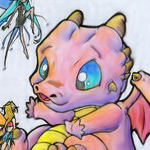 Flutey song. I owe the guitar in the background to a friend of mine whose name here is Jeff 'cause that's the only name I know him as... and I no longer speak to him, it's been years. We remixed each other's song..I have a song of HIs that I did two different ways but out of respect, I won't put them here... on Io. But I love them to death, so..I dunno. Unless I find Jeff, I may never know.
PS: Dev, are you also Dev from "OCRemix"?