2005/06/18 16:02:57 PDT by Stix [0/49]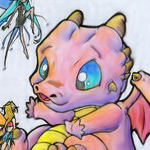 Also, concerning my "Funny Delloran", I just read a funny part when Ko was turned into a skunk. Perhaps that whole sequence (or part, since I've learned that listening to it over and over might get annoying)... could have that music playing. Maybe that could be the "humorous situation" music... since writing a funny piece for each moment seems almost like we're overdoing it.
Now, for this one: I'm thinking that somewhere along the lines someone might consider this as Ko's theme. There's a longer version which I will henceforth and upload..and so forth. There's some emotion in this... where Ko has things going through his young mind, who had to make some tough choices before leaving the only life he's ever known with Brooke... he had to watch his brother die, and he's considered suicide. It's a sad life for him. But he finds new friends, and a new reason to live!
I hope this fits. By the way, if it goes on a little longer it's because I had a *bleep* of a time trying to cut off all the excessive stuff at the end..I may have missed some... *Sigh*