2005/07/14 13:32:59 PDT by Stix [0/49]
Awards: 7 from Dev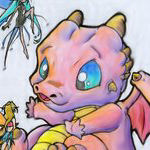 I wasn't really looking at anything. But now that I think about it, I almost feel like it's a horse-lizard... or a horse-dog thing. I'm not satisfied with it, but if you like it, I mean, really like it, I can color it and finish it. It's not supposed to be any Antarean in particular. I can't concentrate on 'special' features that distinguish individuals until I get the body down.
I *could* go leaner. This one just ended up being muscular. And the necklace collar thing? No idea. Just seemed like it would look cool around his big horsey neck. That tail thing was random. Just a spike monstrosity there.
Please give me details exactly on what you want me to improve/change..otherwise I'm just floating in the darkness.
Added at 2005/07/14 13:36:31 PDT
PS. The face is crap. I kept erasing and trying again and erasing...and I was tempted to just have a headless thing... I forgot the 'mustache' things too but... just pretend the head looks better than it really is..lol...