Howling Forest
2005/06/07 16:34:31 PDT by Stix [0/49]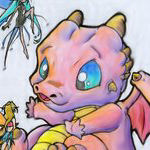 Oooh... This sounds nice! how come Dev hasn't spoken to you about it?? Maybe because it was an automatic keeper.
I actually think this goes pretty well. The progression is pretty nice, and it can work into itself again and again as a loop. Especially the beginning... however, toward the middle it starts to get a little out of hand? It still sounds nice, I think.. but wouldn't it be better to keep that creepiness going without the key change?
Just asking. I am no expert....